The Journeyman

Part 1 – Stormy Waters.
The Journey began on 23rd August 1978, but at ten days old I contracted Meningitis, which damaged my heart muscles, the doctors at Warrington General Hospital also suspected that I'd suffered from a stroke, which left me with brain damage causing weakness down my right side.
My early days were spent mostly in hospital suffering with many viruses such as Pneumonia.

As I progressed into my childhood I was placed on a vast amount of medication such as digoxin aimed at aiding my failing heart.

I attended Myrtle Street Children's Hospital in Liverpool under heart consultant Dr Arnold as my condition deteriorated.

My schooling was affected from an early age, I was first sent to my local nursery school but I found it difficult keeping up with the other children and so it was decided to send me to Hamblett School, which was a special school for children with disabilities as I also suffer with cerebral palsy.
I attended Hamblett School until the age of nine, though leading up till then my condition had gotten much worse and I was unable to walk far without feeling breathless and tired and was constantly being affected by chest infections.
Here is a picture of myself and my pet dog Mindy; I call this the grim reaper picture…



(Hamblett School Christmas production 87)

Above was my school Christmas production which I was still able to take part in, as Christmas approached my appointment for Harefield had still not arrived until my parents (Mum, Sue, Dad, Bryan) contacted the hospital and were told to bring me down to Harefield for tests.
PART 2 –THE GIFT OF LIFE
As we set off to Harefield little did my parents and myself know what life changing effects that one journey would have.

The plan was simple I would undergo tests to evaluate my situation and then be placed on the Transplant waiting list and be home in time for Christmas, or so we thought.
On the Eve of our return home, in the early hours of December 17th 1987 I was visited by non other than world famous Professor Sir Magdi Yacoub and after seeing me took my parents aside and told them that my lungs were being effected by my damaged heart and if they didn't act soon I would need a Heart and Lung transplant within a year, but there was a HEART AVAILABLE THAT VERY NIGHT. He then left my parents to make the hardest decision of their lives but they then woke me and told me I was going to have a HEART TRANSPLANT.

A young Scottish girl named Samantha Dawkins needed a new heart and lung transplant having suffered with Cystic Fibrosis and wanted to donate her unaffected heart to help some one else to live.
Funny as it sounds my parents later told me I was in high spirits when I was told. I was soon prepared to go down to theatre, my parents said goodbye and from that moment on my life was about to change.

The transplant itself took around nine hours and after a few hairy moments placing me on the life support machine the operation was a success for both Samantha and myself making us at the time WORLD'S YOUNGEST DOMINO TRANSPLANTS.
I spent over two months at Harefield and celebrated Christmas on the Children's ward.

(Santa visits Harefield 87)


(A picture of my grandparents visiting me in Harefield)
As my recovery gathered pace I was finally able to meet the young girl who saved my life and soon enough we struck up a lasting friendship, I was given a St Christopher medal with the message which read "With All My Heart Samantha" I also gave Sam a Golden heart locket, the gifts symbolised the strong bond between us.
I was finally able to leave the hospital and was allowed to stop in Harefield Village at the Dovedale flats (Well before Parkwood was built (On sight accommodation
(My sister Gayle and myself at Dovedale.)

My early transplant life was not without setbacks as I suffered with rejection on a number of occasions, but this was expected, I also underwent a heart biopsy which had complications, a surgeon accidentally went through an artery in my neck causing blood to flow into my chest and lungs, I was then placed into intensive care were I eventually recovered. My last rejection was back in 1993 when the doctors thought my heart may never work aswell but eventually made a full recovery. I also suffered with a rhythm disorder and was placed under adult consultant Dr Banner. I underwent a small procedure to stop and re-start my heart and with medication the problems were rectified.

Despite the few set backs I have continued to go from strength to strength!
Whilst down at Harefield both Samatha and myself had the opportunity to meet H.R.H. The Duchess Of York when she opened the new intensive care unit at Harefield, we were sort after by the national newspapers and also appeared on TV. A.M. and BBC medical Programme BodyMatters (I guess you could say we were celebs… ha) I also was involved in fund raising giving thankful donations to both the British Heart Foundation and Harefield.
click for full size image
(One of many newspaper stories – see The Fame Game)


Soon after the Royal Visit I was finally allowed home, being a mad football fan that's all I wanted to do, finally I was able to play football with my friends and run in school races, it was a whole new experience and a welcome one…
(Picture Football Fantastic) This would never have been possible without the gift of life)
I was finally able to take part in sports day along with my friends, here is a picture of myself running in the 400mtrs when I finished 4th-
Sporting my red Liverpool shirt.

I was playing football on a regular basis even being apart of my childhood football team taking part in a five-a-side tournament.
Being an avid Liverpool fan I was lucky enough to become the Liverpool mascot and was able to meet my boyhood hero's as they took on Luton Town at Anfield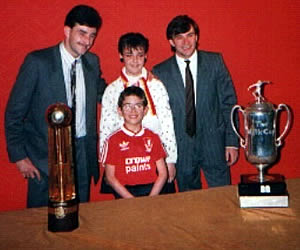 (My sister Gayle and myself pictured with Liverpool football players, John Aldridge and Ray Houghton)
Part 3 – My Heart Is Yours.

For eighteen months both Samantha and myself enjoyed a bond beyond friendship, we even took a holiday to Blackpool and spent time together at Christmas…

However as time drew on Samantha unfortunately contracted a virus which caused her body to reject her new heart and lungs, she desperately needed a new transplant though sadly, there wasn't a donor available and Samantha died a day after her 17th birthday.

I take comfort in the fact that a part of Samantha lives on inside of me and that I got to see her before she died.

Soon after Samantha's tragic death I appeared again on TV. A.M. appealing for Organ Donors – which still today I hope for)

Although I have found it hard I have tried to move on, I am still in contact with Samantha's Family Liz, Roger, and Jason).
Part 4 – Message Of Hope

Last year December 17th 04) was my seventeenth year heart transplant anniversary and looking back I'm eternally grateful to Samantha and her family, and all the doctors at Harefield Hospital for their continuing dedication and support to fellow transplant recipients like myself, despite some challenging times my transplant has given me a new lease of life and long may it continue…
Since my transplant I have been able to achieve a great number of my goals, in education, gaining a G.N.V.Q. Business Studies at Distinction level, G.C.S.E. English Language and Literature Grade A for course work and B, C, for the respected exams, I also gained University credits whilst taking a Creative Writing Course, though I did not take up that option.

Other milestone achievements were being able to celebrate my 18th and 21st Birthday that without my transplant I would not have been able to reach….

(My 18th Birthday Bash)





(My 21st- Picture – cutting Darth Maul.


Part 5- A New Century, A New Man.
My interests over the years have been based around creativity, I have in the past written short stories and poems and later moved into my one true passion Music.

I became a member of the British Music Academy penning a song for the Eurovision Song Contest in 2001 entitled Come Together, the track didn't make the final cut but was aired on Radio Merseyside and was given glowing reviews.

In 2002 I penned a song for a local theatre production, which I sung and starred in…
In 2004 I recorded my first professional demo The Best Days Of Our Lives. I have written a back log of songs which I hope in the coming years to produce and pass on to publishers.

2001 –Come Together Demo disc, Eurovision Song Contest entrée.


2004 – The Best Days Of Our Lives – Front cover, illustrated by Samantha's dad Roger.


I have also been playing the keyboard for over nine years and having vocal sessions for two. My music both listening and writing have been a strong source of strength for me over the years and I hope to be able to share my music with others in the near future…

I have decided to end the story but not the journey with a poem I wrote a few years after my transplant, which I hope you enjoy….
Heart Transplant
No football, No biking,

No running, No hiking,

Bleep goes the machine,

You lie there so weak,

Why is life so mean?
With the oxygen mask,

Life's an uphill task,

Oh donor come fast,

And Save me at last.
A donor is found!

Put your feet on the ground –

And jump up for joy,

Life is changing my boy.
Yes to football, Yes to biking,

Yes to running, Yes to hiking,

No more bleeps from that -

dreaded machine,

Life is better than ever it's been.
You're no longer wistful,

As you run in the grass,

Thanks to the gift of life,

Your problems may pass….©Protected)
This poem was written when I was eleven years old and is dedicated to my donor Samantha and all who have loved and helped me through the years, A BIG THANK YOU TO ALL