This website was created by our son, Andrew Wilson.
Sadly, Andrew passed away on the 7th of July 2005, before he was able to publish it.
As a tribute to him we have published his work, as he intended.

To our beautiful son, Andrew.

Love
Mum & Dad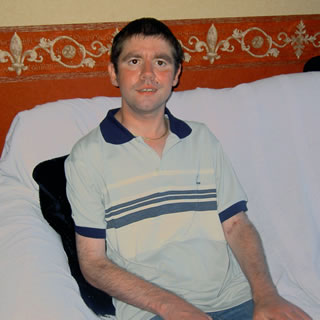 This website is dedicated to my donor Samantha Eve Dawkins and her family for giving me the Gift Of Life.
Introduction

Welcome to Transplants United. My name is Andrew Wilson and in 1987 I underwent a Heart Transplant at the world famous Harefield Hospital and became for a time the world's youngest Domino transplant along with my donor Samantha Dawkins.

Though this website is based around my personal transplant experience it is my hope that the information on this site will help those who may be waiting and who have received by providing basic guidelines.

LAST UPDATED 24th June2005

I hope to update this website on a regular basis and so if you have any suggestions or comments either drop me an email at bryan@wilson33.plus.com or

Before entering this site please be aware that no medical persons has endorsed this site and all recipients should seek professional medical advice.
Please feel free to browse through the pages of this site and I hope this helps in someway.

Kind Regards

Andrew Wilson